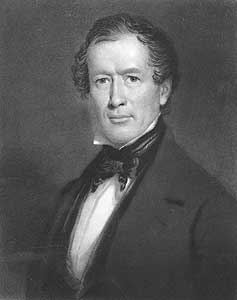 After breaking ties with the Allan family, Poe struggled with half-hearted attempts at a solid career. By 1835, he had published three volumes of poetry — none of which met with significant financial or critical success. A few prose works had made the rounds, including "
MS. Found in a Bottle
," which won him an impressive $50 prize. One of the judges that awarded Poe his prize was
John Pendleton Kennedy
, to whom Poe owes his career.
Kennedy, in reviewing Poe's several prose submissions for the contest, encouraged Poe to keep writing. On March 15, 1835, Poe wrote to Kennedy for more explicit career help: he needed permanent employment. Poe's financial situation was so bad that he had to turn down an offer to dine with Kennedy. As he wrote, "I cannot come--and for reasons of the most humiliating nature [in] my personal appearance. You may conceive my deep mortification in making this disclosure to you." Poe didn't have enough money to afford a proper suit, which prevented him from accepting the dinner invitation. Kennedy took sympathy and helped him get new clothes and also tried to find a more long-term solution to Poe's financial troubles by getting him a job.
So, Kennedy wrote to Thomas Willis White a few weeks later. "I told him... that you might find it to your advantage to give him some permanent employ." Sure enough, White brings in Poe as a contributor and, by August 1835, Poe is a staff writer and critic for White's journal
The Southern Literary Messenger
. Poe's time with the
Messenger
won't be long, but he will contribute nearly 40 reviews of American and foreign books and periodicals, kick-starting his career as a critic; his role as a critic, of course, will be the main source of his reputation during his lifetime. His solid contributions helped build the readership of the journal and, during the period in which he was supervising content, the circulation grew from 500 to 3,500 subscribers. He will occasionally contribute to the
Messenger
for the rest of his life.
If you follow the logic, then, Poe's March 15 letter to Kennedy led to his first foray into professional literary criticism, which became his career.